Finding a property to buy is an important step for all of us. Whether it's a house in a quiet neighborhood or a seaside home, we need to be organized when we look for a property. This guide will teach you how to do your own research on finding a property that is as close as possible to your dream house.
Generally, people need different types of properties, from a house in the city to a holiday one. That's why, at Love Your Postcode, we love to help you in your search. We have worked in this area and we can advise you on this adventure: finding a new home.
In our daily work, we have helped hundreds of people find their dream home, so we recommend reading this guide.
[ Please check our wide range of houses for sale in Birmingham offer. ]
1. Use the best property finding portals
The largest property websites receive massive amounts of desktop and mobile traffic. If you're after a portal for finding or listing property, then we can help you.
Rightmove is the UK's largest property portal. Their aim is to empower the UK's decisions around the property. Their platforms provide an easy to use but sophisticated online property search. With the depth of information, they provide home hunters can immediately identify a preferred property. Rightmove plc floated on the London Stock Exchange on 15 March 2006.
Zoopla is the UK's most comprehensive property site, focused on empowering users with the resources they need to make better-informed property decisions. Zoopla has rapidly become a leading online destination for property consumers to search for homes and do their market research. Zoopla is favoured online marketing partner for UK estate agents, letting agents and property developers.

Launched in January 2015, OnTheMarket is a simple way to search for property. They aim to provide all potential buyers, sellers, landlords and tenants with an exceptional property search service. The technology is state-of-the-art and the website will seamlessly adapt to fit all screen sizes.
2. Property websites: best alternatives to big portals
Gumtree In March 2000, at the height of the dotcom boom, two entrepreneurs by the name of Simon Crookall and Michael Pennington had an idea to set up a classified ads website for Aussies, Kiwis and South Africans arriving in the city. That was when the Gumtree community was born, as thousands flocked to the site to find somewhere to live, a bit of furniture, and a job to pay for it all.
Some 13 years later, Gumtree.com is one of the UK's best property classifieds site.
TheHouseShop The House Shop is another the UK's portal for property, working with homeowners, landlords, estate agents and developers to buy, sell, rent and let property online. The House Shop offers a range of dedicated services for both homeowners and estate agents, and provide buyers and tenants with a unique property search that includes a range of homes for sale and to let, that you won't find anywhere else.
UKLandDirectory Land is purchased, enjoyed and used in many ways. Just as with purchasing homes, the investment value is nearly always taken into account but also uses such as grazing animals, recreation, farming, production of energy crops and where there is potential, trying to add value through obtaining planning permission for change of use. Landowners can manage their land as they see fit, subject to planning permission.
3. Choosing the best local estate agent
So, do you need to find the best Estate Agents in your area to buy, rent or sell a property? Choosing an estate agent to find your house quickly for the best price can be complicated. Here is the right place to find how to do it.
Depending on how you prefer to find the best estate agent in your area: walking in your neighborhood or sitting on your computer.
a. Walking in your zone
If you're ready to find a home or you want to buy in a specific area, it's important to find the best agent who understands the unique aspects of your area. Doing some research in advance can ensure that you find the best fit for your needs.
Ask neighbours or friends and family members in the area if they can recommend someone.
Drive the neighbourhood and see what properties are listed and by who.
Read the newspapers.
By going to open houses, you can meet estate agents and interact with them. Collect business cards and make notes on them.
Print Advertising like billboards.
b. Sitting on your computer
Most high-street estate agents will have a website. Most of the time, all you need to do to find the right estate agent is use a search engine like google.co.uk.
Type in your browser www.google.co.uk
Search "estate agents in [your area]"
Then you will find a great list of estate agents in your search area with website URL, address, phone numbers, etc..
At this point, you can refine your search using the specific term like " estate agents in Birmingham [ street name], [zone], [area].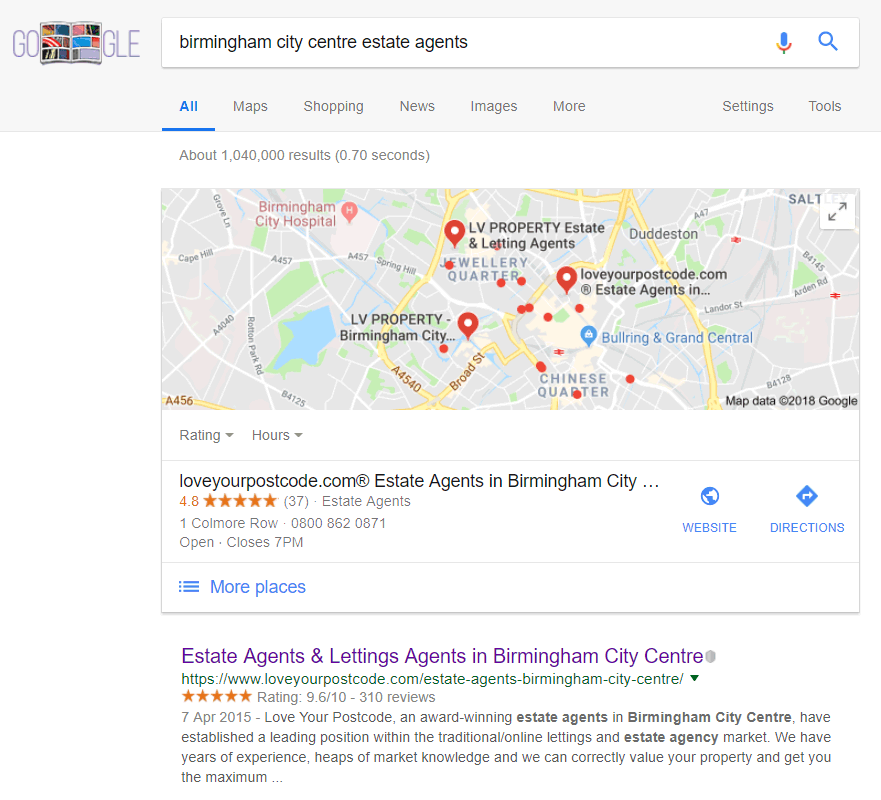 4. Find out how much other properties have sold for

Whether you're investing or just interested, you can find out the estimated market value of a property using Love Your Postcode's instant free online valuation tool. It's quick, easy and free – just enter your postcode and get the estimated price for the property you've inputted.
5. Take pictures when viewing for making comparison
It's human nature. We're surrounded by an incredible landscape, and we want to capture all of it in one image. They say that first impressions last a lifetime, and this could very well be true when it comes to buyers laying eyes on the perfect family home for the first time.

Taking lots of photos or a video is a great way of ensuring that, should you miss something, you can check again without arranging another viewing. However, make sure you ask permission before you start snapping.
6. Figure out what your 'perfect home' looks like
A home inspection is a limited, non-invasive examination of the condition of a home, often in connection with the sale of that home. The inspection is most important in the home buying process. Remember to look at the building itself as much as you look at things like the layout of the bathroom and whether or not there's an en-suite.
If you're serious about buying a property, it pays to be thorough and a few simple maintenance checks can sometimes make the difference between buying your dream house and stepping into a costly nightmare.
You can hire a home inspector for this process. The inspector prepares and delivers to the client a written report of findings. The client then uses the knowledge gained to make informed decisions about their pending estate purchase. The home inspector describes the condition of the home at the time of inspection but does not guarantee future conditions, efficiency, or life expectancy of systems or components.
7. Online estate agents
The services offered by online estate agents are, for the most part, quite similar to those offered by high street agents. An online estate agent will value and market your property for you, and arrange property viewings. But there are a few significant differences in Estate Agents Fees, Viewings, Valuations, Marketing, etc..
You've decided to use an online estate agent. But which one? There are lots out there, all offering different prices fees. Estate agents fees and contract terms vary from agency to agency.
Commonly, estate agents charge a percentage fee, which can be anywhere between 0.75% and 3.0%+VAT of the agreed selling price for your property, according to hoa.org.
Love Your Postcode offers an award-winning online package. Click here for more details.
8. Purchase a home that stays within budget
So you've found some properties you're interested in and thought about the style of home that suits you best. Now it's time for some planning of the less fun variety. Before you start looking at houses you need to figure out how much home you can afford.
You can't make a budget if you don't know how much you can spend. So sit down and add up every source of income you receive each month.
9. How many homes will a home buyer see?

Research shows home buyers view between four and eight properties before committing. Any more than that and the brain can be overloaded. Therefore, don't expect to see 20 or 30 homes; although it's physically possible to do so, you probably will not remember specific details about any of them.
10. Research before you look
List the features you most want in a home and identify which are necessities and which are extras. Identify three to four neighborhoods you'd like to live in based on commute time, schools, recreation, crime and prices. Then hop onto realtor.com to get a feel for the homes available in your price range in your favorite neighborhoods.
Use the results to prioritize your wants and needs so you can add in and weed out properties from the inventory you'd like to view.
11. Set a moving timeline

Do you have blemishes on your credit that will take time to clear up? If you already own one, have you sold your current home? If not, you'll need to factor in the time needed to sell. If you rent, when is your lease up? Do you expect interest rates to jump anytime soon?
All these factors will affect your buying, closing, and moving timelines.
12. The Neighborhood and Surrounding Area

This may be where you started your search, but have you really considered all aspects of your potential new neighborhood? School districts are of course important for families with kids, and proximity to work and family closely follows on many folks' wish lists.
But you may also want to look into how walkable or bikeable your neighborhood is, what community amenities are nearby and what public transportation is available.
13. The age of a property
It's nice to move into a place that's brand-new, but new isn't always better so consider both old and new. While you might not like a previous homeowner's decorating decisions, you might like the owner-installed upgrades — like a finished basement and a backyard deck — that a new home might not have.
The U.K. has lots of old houses. In some parts of the country, the housing stock is far older. Older homes have amazing character traits and historical features that most new homes simply do not have.
As a general rule of thumb, homes built after 1990 are considered newer, and homes built before 1920 are considered "old" or "antique." Houses come in all shapes, sizes, and ages. There are big ones and small ones, old houses and new houses, and one of the first decisions you will have to make when it comes to choosing a house is whether you opt for a new build or something a little older.
Older homes are also often constructed in prime locations with lower price tags than modern high rises. Purchasing an older home can be a great investment, especially for first-time home buyers.
14. Set a realistic timeline

This timeline is simply a memory aid for the things you'll need to do when buying a new home. Your sequence may differ greatly, although you'll probably need to do most of the same things at some point.
You may find your dream home in a week, or it may take months. Your time frame will also hinge on whether you're moving across town or across the country. It's smart to be prepared for any scenario.
15. Consider shared ownership
Shared ownership is a way of buying a stake in a property if you cannot afford to buy it outright or indeed if you want to don't want to invest all the proceeds of selling your current home on a new property.

Don't be confused by the term 'shared ownership'. It does not mean that you will share your home with anyone else, you will have sole occupancy rights. But property ownership will be shared between you and a landlord or a similar company. Shared ownership properties are usually offered for sale by housing associations.
16. Get preapproved
The first thing you should do before starting the house hunting process is get preapproved by your lender and discuss your budget and possible price points.
Mortgage pre-qualification can be useful as an estimate of how much you can afford to spend on your home, but a pre-approval is much more valuable because this means the lender has actually checked your credit and verified your documentation to approve a specific loan amount.
17. Visit the local police station

Safety's an important consideration when purchasing a home. That is why it's important to visit the local police station to find out more about what's happening in the area before you make an offer. It's also a good idea to chat with neighborhood watch and security companies in the area.

18. E-mail alerts
Setting up email alerts is a great way to stay informed about new properties that come onto the market. Signing up for newsletters from various property portals will also keep you in the loop.
19. Use your smartphone to find your dream home
Buying a house, particularly if it is your first, can be a daunting task. Between finding the perfect place, securing financing and moving in, it can seem like there are a ton of steps standing between you and your dream home.

Fortunately, technology has made the process of finding a home a whole lot easier. Your smartphone is probably your single best tool as you hunt for a new place to live, and a few property apps can make all the difference when finding a new house.
Are schools in the area?
Another important aspect to keep in mind when looking for a home: schools. If you are a young family, you probably want your children to learn as close as possible to their home in the neighborhood where you live. Looking for a home with many schools in the neighborhood is an important aspect.
Book an appointment with one of our property experts, all us on 0800 862 0870 or book a free valuation on your home today.
Finding a property: 20 tips to find your dream home
By