Who doesn't love the Birmingham City Centre? We did some research into one of our favourite cities in West Midlands and learned some interesting facts about Birmingham City Centre you may not have known.
Many of its most interesting sights and attractions are not readily apparent, so you'll need to dig a little deeper to discover the gems that really make the city unique. Luckily, Birmingham City Centre is surprisingly walkable and at times feels more like a compact town than the major UK cities.
And once you start chipping away at its foreboding exterior, you'll find untold treasures below the surface: beautiful buildings, restaurants, gyms and oases of calm.
About Birmingham City Centre
Birmingham City Centre, or Central Birmingham, known by locals as "Town" is the business, retail and leisure hub of Birmingham, West Midlands. Birmingham it's the second most populous city in the United Kingdom. It is the main centre of the West Midlands conurbation, which is the third most populated urban area in the United Kingdom. Birmingham is frequently referred to as the second city of England.
Things to do in Birmingham City Centre
Shopping

Often considered to be the key shopping area in Birmingham, the City Centre is home to many big designer brands and an essential destination for luxury shopping. If you love clothes, shopping in City Centre is a quintessential experience. From Harvey Nichols to Selfridges, our historic markets or the world-famous Jewellery Quarter, the shops in Birmingham offer you everything you could ever want in an attractive and compact space.
1. The Mailbox also known as Mailbox, is an upmarket shopping and office development in the city centre of Birmingham. Above the front shops, it has an additional 6 floors which include a Malmaison hotel and residential apartments.
2. The Bullring has over 200 stylish stores featuring 2000 leading brands and now includes Grand Central, Birmingham's newest prime shopping centre, located above New Street Station.
3. ICC Mall, the spacious mall in front of the International Convention Centre leads from Centenary Square to the waterfront, featuring a tourist information bureau with maps, brochures and information about local events in and around the city.
4. Resorts World Birmingham – Explore the endless possibilities of Resorts World Birmingham. From 50 outlet stores and 18 stylish bars and restaurants to an 11 screen cinema and exhilarating International Casino.
Relax

Finding a place of stillness in your busy day will forever seem impossible until you realise it's simply a matter of priority. When you need a break from all the day by day stress, here are some ideas for opting for the relaxed route.
1. The Museum of the Jewellery Quarter is built around a perfectly preserved jewellery workshop, offering a unique glimpse of working life in Birmingham's famous Jewellery Quarter. Explore this extraordinary time capsule on a lively guided tour. Watch live demonstrations at the jewellers' bench of the traditional skills of this fine trade, and discover what it was like to work here.
2. Eastside City Park is Birmingham's first new City Centre Park in many years. Setting the standards for public realm expected from an international City, the park is the largest single piece of the public realm in Birmingham City Centre, a green route to walk from the City Centre into the heart of Eastside.
3. The Spa at The Cube in Birmingham City Centre. From their uplifting wet and dry thermal rooms and vitality pool, complete with massage jets and a waterfall, to relaxation areas and 300-year-old Finnish Sauna, you can immerse yourself in quiet and harmony. And, with the club and spa spanning one entire floor, opportunities abound to stretch out and settle in.
Restaurants

There are some great restaurants in the City Centre near The Mailbox, Brindleyplace, Colmore Row and New Street. In a city with several fine dining eateries as well as places services serving cuisines covering countries all over the world, it's easy to say we've got a decent choice of places to eat. Birmingham City Centre has a multitude of different cultures, so it's no surprise that this diversity also extends to their restaurants. So to make your life easier, just feast your eyes on our pick of the best city centre restaurants, right here.
1. Adam's is a contemporary British fine dining restaurant serving modern dishes created to the very highest professional standard. The intimate stylish dining room caters for individuals and parties and provides the ideal setting for any occasion from romantic to business. Owner and Chef Adam Stokes heads up the award-winning restaurant which holds a string of accolades including a Michelin Star, three AA Rosettes and a score of 7 in the Good Food Guide.
2. Marco Pierre White Steakhouse Bar & Grill is located at the top of The Cube building in the Mailbox district. First impressions are spectacular as you enter the restaurant and experience 360 degree panoramic views overlooking the city. The restaurant serves up a classic British menu with succulent steaks and brilliant cocktails that feature on their extensive bar menu. Live music plays out every weekend that only adds to an unbelievable ambience.
3. San Carlo restaurants create food of the highest quality, but each restaurant displays its own unique style in food due to the individuality of our creative chefs and management. In 1992 Carlo opened his first eponymously named restaurant in Temple Street, Birmingham, then a humble 20 table restaurant. Celebrities, sporting stars and loyal diners made San Carlo their restaurant of choice and soon Carlo had a success on his hands.
24 Hour Gyms in Birmingham City Centre

1. Pure gym. Work out in fantastic surroundings at our great-value gym in the centre of Birmingham where everybody is welcome. Everything you need to hit your fitness targets is here, including hundreds of top-quality pieces of equipment, 24-hour access and plenty of free fitness classes to get your body moving in the right direction.
2. At The Gym in Birmingham City Centre, you can eat, sleep, train and repeat – regardless of your schedule. Their contract-free, 24/7 gym membership is more flexible than a Pilates instructor, so why not come along and find your fit?
3. Easy Gym. Located just minutes away from New Street station, offer the biggest & best gym in the city! Come down & check out the huge free-weights zone, cardio kit with touchscreens to watch TV & go online or jump in one of the infamous PACK sessions!
Hotels In Birmingham City Centre
What is the best area to stay in Birmingham while on a holiday or a weekend? The first neighbourhood is the City Centre, but there are numerous other places to stay in Birmingham – if you know where to look. Find the best museums, parks and restaurants in the city and upscale lodging all within walking distance.
1. AC Hotel by Marriott. Marriott International, Inc. is a leading global lodging company with more than 6,500 properties across 127 countries and territories, reporting revenues of more than $22 billion in fiscal year 2017. Founded by J. Willard and Alice Marriott and guided by family leadership for 90 years, the company is headquartered outside of Washington, D.C. in Bethesda, Maryland.
2. The Spires aim is to become a nationally recognised high quality serviced suite operator. Established in Aberdeen in 1995, The Spires then opened in Glasgow in 2003, in Birmingham in 2007 and in Edinburgh in 2015. The brand promise delivers to you the highest quality of accommodation and services whichever of our locations you choose to stay be it for business or leisure.
3. The Cube, Birmingham's iconic landmark. The Cube is a world-class destination standing tall across the city's skyline. Perfectly situated in the heart of the city, The Cube is next to The Mailbox and a few minutes walk from the convention centre, The Bullring, Brindleyplace and New Street Station.
Rooms & Property to rent Birmingham City Centre

Love Your Postcode's multi-award winning platform combines years of extensive experience, efficiency and cost savings in all areas of the business in this specific area of the city. Colmore Row is a street in Birmingham city centre, running from Victoria Square to just beyond Snow Hill station.
It's the city's most prestigious address for every type of business. The postcode of the area is B3 2BJ. Love Your Postcode Estate Agency conducts its business in this area through the City Centre branch, serving customers around on and around Colmore Row, Birmingham.
Our office opening hours are 7am-7pm and the viewings office is open 24 hours a day. There will also be an agent on hand out of hours should you require assistance.
We believe we are set to enjoy a good market for the short to medium term and there is plenty of property for investors to choose from. Speak with our Colmore Row specialist team that sources homes for investment purposes only.
If you are unsure what is the best option for you, call us on 0800 862 0870.
Buses to Birmingham City Centre from the airport
Looking to catch a local bus from the airport to the city? Timetables can be accessed via Network West Midlands. You can use X1 (connecting Birmingham and Coventry), 97/97A (Birmingham City Centre to Birmingham Airport – 24/7).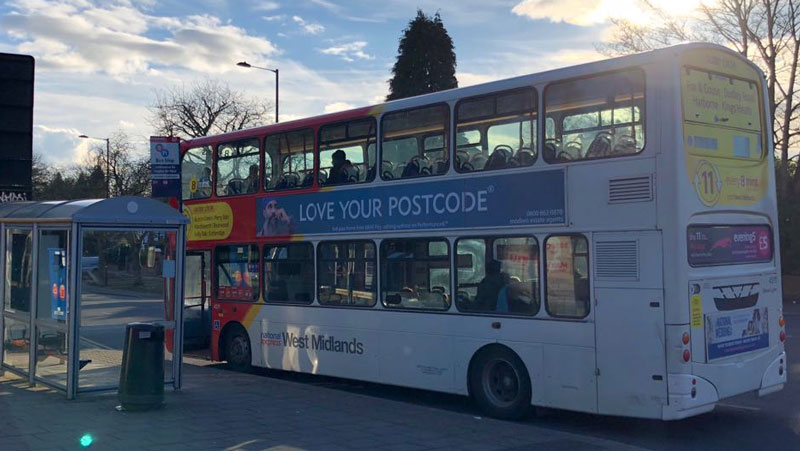 Love Your Postcode Group has become one of Birmingham City Centre's top estate & lettings agents because of how our group pays attention to each client. With us, you're guaranteed a trusted partner that employs skilled and experienced staff that anticipates your every need.
Love Your Postcode Estate Agents in Birmingham gives your home maximum exposure online & offline, getting it more views from potential applicants, therefore more offers, and ultimately the highest possible finishing value. This means you end up with more money in your pocket and you enjoy a higher quality service. Call us on 0800 862 0870 or book a free valuation today.
Birmingham City Centre
By