Ever been round to someone's house and thought they must have paid an interior designer to do it? Actually, they've probably just been privy to a few tricks of the trade. Here's a few insider tips to give your home a dose of expert style.
1. Forget what you've been told: grey is exciting
That's right, you don't have to cover your walls and reupholster soft furnishings in tropical prints and neon shades to make your home look lively. Those in the know are calling grey the 'new neutral', which is great news for us, because we've always loved it. Make like an interior designer and pick your favourite monochrome mid-tone with which to decorate your home. Pair with black and white and add natural warmth by using materials such as wood and stone to get the best out of mid-tone shades.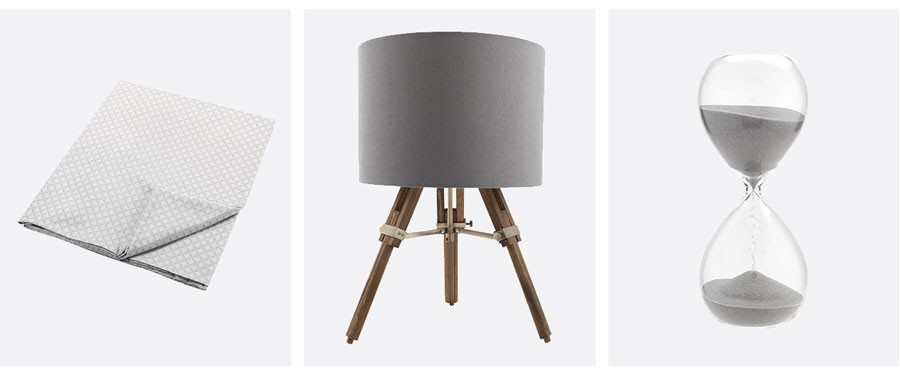 2. Mixing patterns is not a sin, in fact it's encouraged
Decorating trends often take their lead from fashion, so when the catwalk began to clash patterns, so did interior designers. This is not our cue to throw all taste out the window of course; this is about determining what looks good together and what doesn't.
Start by picking a complementary palette and decide if warm or cool shades work best in the space. Then choose one or two main colours and the same number of accents. Experiment with differently patterned accessories, such as crockery, cushions and rugs – a great way to freshen up your room without too much expense.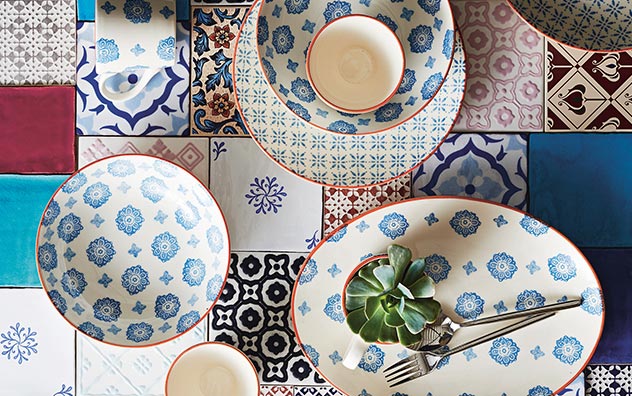 3. Photographic prints are in
And we're not talking on your walls. We're talking on fabrics. Pretty vistas, animal motifs and country scenes are working their way into your home via photographic-style printed fabrics. Try adapting this trend with one or two feature cushions on the sofa or statement pillows on the bed – like this serenely dreamy bedspread.
4. If in doubt, go geometric
Bold graphic prints are an easy way to create impact and are the secret weapon of designers everywhere. Even better, they work alongside a variety of materials and existing décor styles. Use them to balance classic florals, as accessories to bring an extra dimension to a period interior or on a statement piece of furniture in a simply styled room.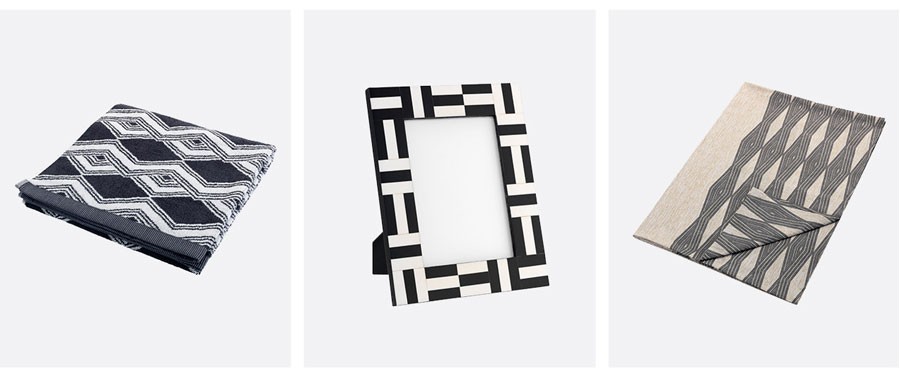 5. Country style can be contemporary
Far from being chintzy, modern country styling is a fantastic mix of warmth together with natural elements that are just as at home in a city apartment as a rural farmhouse. There are plenty of ways to make it work for you – try repainting bookcases and dressers in pretty pastel shades and use textured fabric, such as linen, to reupholster. Bring in brights with cushions, lamps and throws and lean towards the fresh greens and yellows of spring for an on-trend botanical-influenced scheme that will stand the test of time.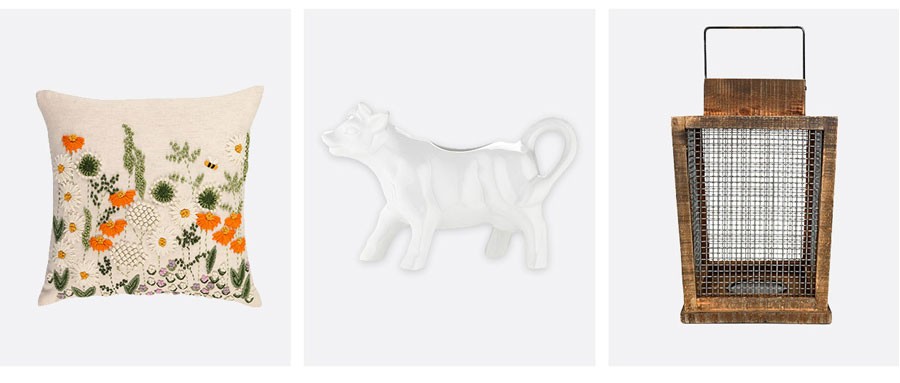 6. Make the most of a mantel
Got a mantelpiece in your home? Lucky you! Don't waste the opportunity to express your personal style and add interest to a room. Put your (trendy and chic) interior design hat on and create a well thought-out display. This doesn't have to mean perfect symmetry, instead consider a balance of height and texture.
Finding a property it's a time-consuming job! Let us find it for you! Love Your Postcode Estate Agents!
Tall candle sticks look nice with small tea light holders, mix up smooth with rough and materials like glass, wood, ceramic and porcelain. The key to your mantel looking 'designed' is sticking to a colour palate so consider the dominant shades of the room and work with those.
7. Dress your room how you'd dress yourself
Not so much you slobbing out in front of the TV on a Sunday, more you looking your best on a first date. What designers are especially good at is drawing attention to the beautiful features of a room and disguising the flaws, such as uneven walls or awkward corners. It's the same logic you use on yourself when you get dressed, so be sure to add striking focal points where you want attention. It can be as simple as using bright bedlinen in a neutral bedroom to bring the focus to the bed rather than anywhere else.
Source: sainsburyshome.co.uk
Buyers are looking for a new home, but are you ready to sell? If you are curious about value of the property please contact us for a free valuation.
Tips to give your home a dose of expert style
By