Stamp Duty is a tax that everyone that purchases freehold, leasehold or a shared ownership property over £125,000 in England, Wales and Northern Ireland has to pay. Last autumn, Chancellor George Osbourne announced a possible increase of a 3% on all stamp duty. In this article we analyse how this change might affect homebuyers and tenants.
How much is Stamp Duty Land tax?
If you are going to purchase a home, you won't have to pay anything on the first £125,000. In the band of £125,000 to £250,000 buyers have to pay a 2%. For next band, between £250,000 and £925,000 the percentage increases up to 5% and for property up to £1.5 million, a 10% and 12% over that. Also, from April 2016, additional properties, such as second homes and buy to let, will have a 3% surcharge in all bands.
Stamp Duty Tax Calculator. Use our tool to get an estimate of how much you'll need to pay for your new home based on the newly updated rates.
You can see this more clearly in the following table: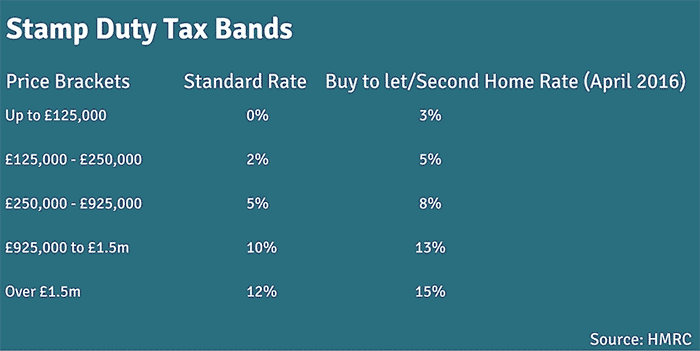 Love Your Postcode has also available a tool to calculate the Stamp Duty tax from April 2016.
Who will affected by the possible changes in the Stamp Duty
The introduction of that 3% surcharge last autumn has been a polemical measure, but we need to bear in mind that it only affects to those people who intend to buy a buy to let or a second home.
Also, this new measure is subject to a consultation that ends this month. The final decision will be made in the 2016 budget that will be announced in March 2016.
There are, however, different groups of people that should be concerned about these changes:
Investors: paying an extra 3% tax might stop many investors purchasing properties, not only to rent out, but also to renovate them and then put them again on the market for a profit. This kind of properties who need a complete renovation hardly ever appeal to first-time buyers because they find difficult to afford all the works on the property plus the deposit.
Couples: whether they are married or civil partners, they will be considered as one, so if one them is a homeowner, both might pay a higher duty stamp if they decide to purchase an additional property.
Parents who wish to buy a property for their children: parents often help their children by purchasing a home in joint names with their child. In this case they might face the surcharge of 3% in the stamp duty.
Owners of a property abroad: the higher stamp duty tax will apply if you purchase a second home in the UK.
Advantages/disadvantages for first-time buyers and tenants
The aim of the new measure announced by George Osbourne is reducing the housing shortage by trying to make more properties available on the market for first-time buyers. The objective of the surcharge of 3% on all stamp duty for additional properties is to put off investors and encourage more people to buy their first home.
The concern is that more available properties for first-time buyers won't necessarily mean that more people are going to purchase them.
Moreover, assuming that landlords will be put off buying, the number of properties to rent will decrease, so buying a home might be a more attractive option than renting. The problem is that many tenants might struggle while the save for a deposit.
In conclusion, this might be a good time to buy a home, but not so good to rent. For more advice, do not hesitate in consult Love Your Postcode.
Stamp Duty changes in 2016: how can they affect you?
By