Purchasing new luxury apartments in Birmingham should be a time intensive and important decision.
So when searching for luxury houses on the market, potential homebuyers should think about a couple of key details.
Birmingham has become the top destination for national property investors. So one of the top points to consider before someone decides to check out luxury houses for purchase is this location. A few people don't mind living anywhere in Birmingham, while some choose to bond with prime location areas in Birmingham. Finding your next property it's a time-consuming job! Let us find it for you!
If somebody is searching for luxury apartments for purchase, they also have to determine just how much space they require. A youthful couple wishing to begin a household will likely desire a bigger penthouse than a single person who's searching for any comfortable flat in the city centre.
If you've ever looked on property listings websites like Rightmove or Zoopla and came across an ad for a "luxury penthouse in Birmingham" you might have thought, "Wow, this one must be special!".
But what exactly defines a luxury apartment, anyway? Is it determined by price, location, square footage, or some magic combination of all of the above?
What makes a property "Luxury"?
A "luxury property" depends on where you will buy. In general, the lowest price you can expect to pay for a luxury home starts anywhere from £500,000 and goes up from there.
No matter the area or city, luxury properties are the ones with the most desiderated locations. In Birmingham's case, these areas are constantly expanding and evolving.
[ Please check our wide range of houses for sale in Birmingham offer. ]
A new strip of trendy bars and restaurants can turn an otherwise average area into a hotspot that attracts high-end buyers. For instance, look at Birmingham's Mailbox Apartments. The Westside has been transformed and is now Birmingham's primary destination to live or work.
Do you need an estate agent in Birmingham? Love Your Postcode is here to help you!
The area is being constantly developed and there are plenty of things you can do. The location has a great ambiance, lots of restaurant to choose from and lots of shops to visit.
Another factor in a luxury property is that the construction materials, finishes and design all are a cut well above what's considered standard.
Luxury Flats & Apartments For Sale in Birmingham
You want to buy a new apartment, flat or penthouse, that's clear! Please browse through our properties search page to see exactly what type of exclusive properties for sale we have. Our experts in Birmingham City Centre cover the local housing market as well as the entire surrounding districts.
One such property that might catch your eye is a fantastic apartment in the prime location Postbox development. Located in the B1 postcode, this apartment is situated in a sought after area boasting endless facilities within minutes' walk such as the Mailbox, the Bullring shopping centre and Grand Central to name a few.
Postbox, Birmingham City Centre B1 1LA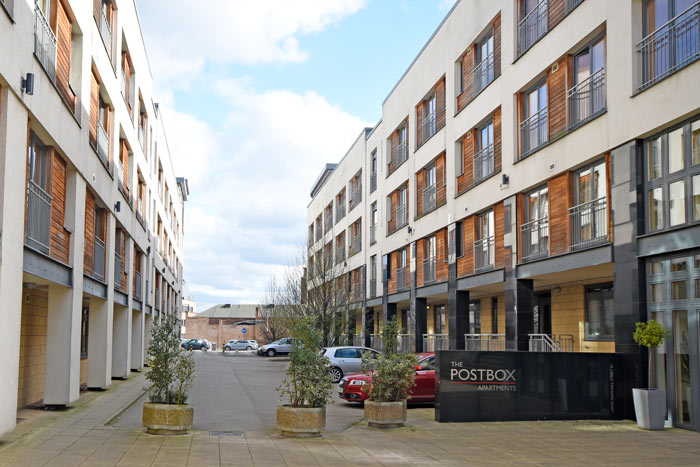 The entrance to this property is presented by a hallway, the first room on offer is the lounge & combined kitchen area. The space available is of excellent size. The lounge area is finished with carpet and neutral décor. Alongside this, an open plan kitchen area provides installed appliances built in to work surfaces and storage.
The apartment benefits from having a master bedroom and private ensuite. This bedroom holds the capacity for a double bed and any wardrobes or bedside furniture.
This also applies to the second bedroom which holds space for a double bed and any fixtures and arrangements. In addition with the bedrooms, a family bathroom suite provides the facilities of bath & combined shower, toilet and sink basin.
Click here to see all details of this apartment.
Love Your Postcode Estate Agents in Birmingham gives your home maximum exposure online & offline, getting it more views from potential applicants, therefore more offers, and ultimately the highest possible finishing value. This means you end up with more money in your pocket and you enjoy a higher quality service. Call us on 0800 862 0870 or book a free valuation today.
Luxury apartments for sale in Birmingham
By