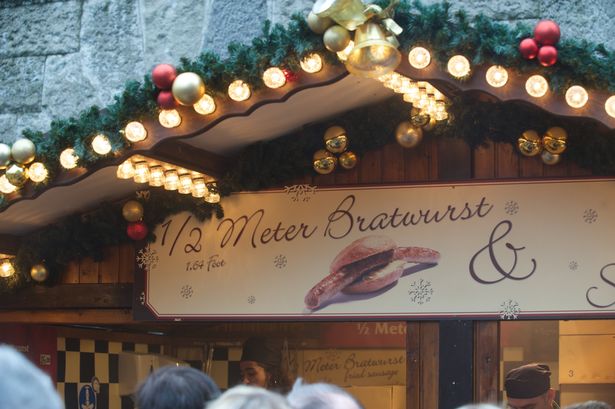 As it has every year for over a decade, Birmingham city centre becomes the place to enjoy traditional German food and lovely hand-crafted items..
Birmingham's Frankfurt Christmas Market and Craft Market 2017 runs from Thursday, November 16 to Sunday, December 24. The Lord Mayor of Birmingham, Cllr Anne Underwood, officially opened the German Market in Victoria Square on November 16, at 5.30pm – before she switched on the city's festive lights. Birmingham's German Christmas Market is open from 10am to 9pm every day.
Why Birmingham has the biggest German market outside Germany and Austria?
Birmingham city is twinned with Frankfurt and it was the first choice of Kurt Stroscher, Frankfurt City Council's director of festivals and events, when he decided to export this German tradition to other countries in 1997 in order to attract tourists to his city.
Birmingham's Frankfurt Christmas Market is not only the biggest German market outside Germany, but one of the best in Europe and the biggest Christmas market in the UK, with over 180 stalls. It attracts millions of visitors every year and has become a resident favourite Christmas event and another reason for more and more people to choose Birmingham city centre as a place to live.
What to expect at Birmingham's German Market?
Residents and visitors will find a festive atmosphere, the opportunity to taste German traditional food at the heart of the city centre and buy unique Christmas gifts.
If you're thinking of moving home or letting a property, conducting a property valuation is an essential step in the process. Look at what's sold recently and you too can estimate your home value.
Among other wonderful German products, you can have bratwursts (white or red sausages), brezel (German traditional bread), marzipan sweets or pretzels. To drink, there is a great selection of German beer and cider, as well as the traditional Glühwein (mulled wine). If you prefer local products, you will also find British sausages, real ale from small breweries and home-made chutneys and cheeses.
In addition, a number of local artisans sell handmade gifts, including ironwork, ceramics, handbags, toys, cosmetics, glasswork, jewellery and Christmas decorations.
How to get there?
The Christmas market is located in Victoria Square and stretches down to the Rotunda. Pedestrians can access the Craft Market and ice rink via Fletchers Walk, as they are located in Centenary Square. The busiest times to visit are from 12pm to 2pm and from 5pm to 7.30pm, as people stop there during their lunch break or on their way home after work.
It is good advice to walk or cycle to the city centre if possible or use public transport, but if you still want to travel by car, there are a few car parks: at Town Hall in Brunel Street, Paradise Circus in Brindley Drive, Somerset House Garage in Temple Street, Snow Hill Station in Livery Street and the Grand Central shopping mall in Queens Drive.
For more information, check this website: http://www.birmingham.gov.uk/frankfurtmarket
Photo | Birmingham Mail
Birmingham German Market 2017 – The City's favourite Christmas event
By