When it comes to adding value to your property, it's very important to utilise what you already have. Costly additions may not bring you much of a return when you sell, so consider enhancing the space and features you already have.
With that in mind, here is a list of some of the most worthwhile alterations and additions that can add great value to your property. Remember, the key is to think about who your buyer will be and go for improvements that will be most beneficial to them.
Utilise the garden
Although large gardens might not be as attractive as they once were, we do still value the addition of outdoor space. Making your garden feel like another reception room could add heaps of value to your property, especially if it's currently somewhat neglected. Simply adding decking, patio or paving can turn a garden into a great entertaining space. Summer houses are other welcome additions, especially when staged as an extra room to enjoy.
Convert the garage
A lot of people could prefer an extra reception room over a garage. If you have permission to do so, then you could convert the garage to add a square footage to your home. Depending on where your garage is located, they can make fantastic playrooms for children or home offices.
Kitchen renovations
Kitchens are the heart of the home and there's nothing more appealing than a welcoming room in which to cook up a feast and entertain guests. If you only want to improve one room to add value, then definitely concentrate on the kitchen and add a few wow-factor touches to really make it stand out.
If you don't want to invest in replacing the floor/cupboards etc, consider changing your plates, replacing outlet covers, changing lights, repainting the cupboards. Small changes can make a big difference and giving your kitchen a face lift can truly change the game.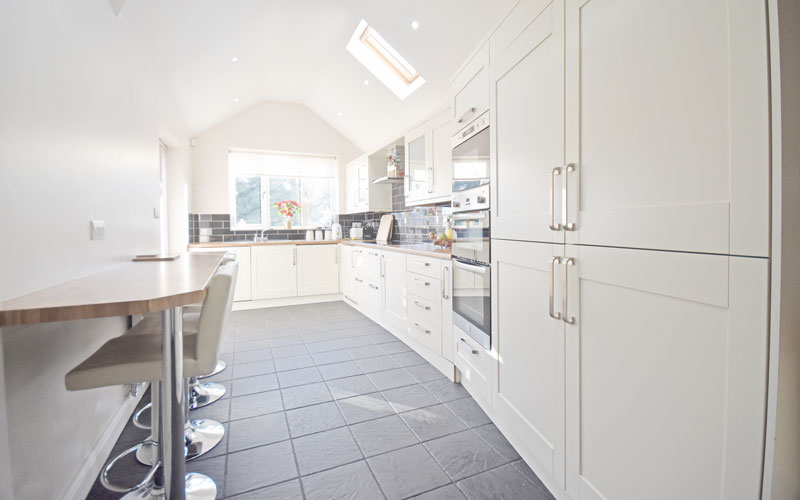 Add parking space
Having somewhere to park the car is a big plus for most buyers. In 2016, 31.7 million cars were registered for use in the UK and with vehicle numbers continuing to rise, parking spots are becoming even more scarce, making them especially valuable.
Even if your buyers don't drive, they will value the space for when family and friends come to visit. If you don't already have parking but do have a front garden, it maybe be worth paving part of it to create off-road parking. You might have to apply to have the kerb dropped, but it's still well worth investigating.
Conservatory or extension
While they are one of the most expensive additions to make, conservatories or extensions are a great way of adding square footage to your property. Consider adding one next to your dining area or kitchen to increase the size of this hugely appreciated space.
Loft conversions
The loft is another often unused area of potentially functional space in a property. A lot of houses don't require planning permission to convert the loft and they can make really stunning rooms. Plus, they're reported to add up to 20% onto a property's value.
Bathrooms
When updating a bathroom, be sure to stick to neutral colour. An emerald green bath tub may sound appealing to you now, but your buyers may not feel the same way. A crisp white suite would appeal to lots of people and add a few ultra-stylish features to make it a room to remember.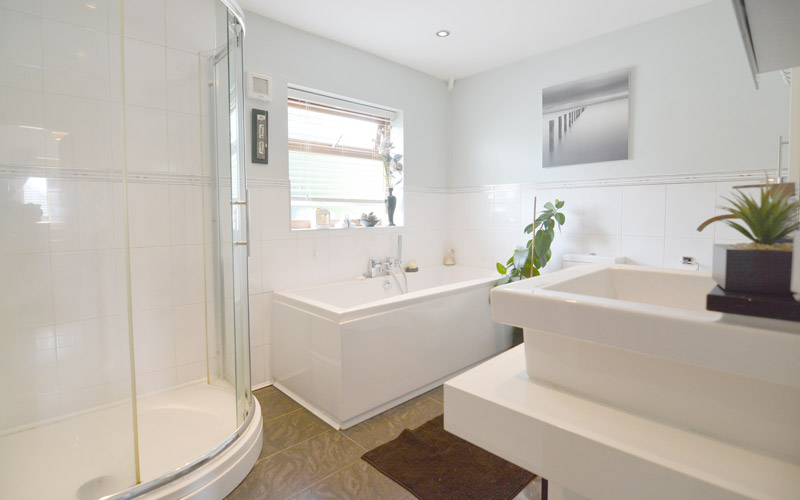 Some bathroom improvements could include:
Installing a heated towel rail.
Switching from a drop sink to undermount sink to provide more countertop space.
High quality surfaces featuring material such as granite or marble.
And if you want to go all out, installing under floor heating is sure to get buyer's attention.
Central heating
It might seem obvious, but adding central heating to a property that doesn't already have it will really help to increase its value and appeal. It's considered essential in today's market and buyers will offer less on a property without central heating, arguing that they need to spend money themselves on getting it installed.
Fix structural issues
At the very least, be sure you fix any structural problems before you put your house on the market if you want to get maximum return out of the sale. A home buyer's survey or lender survey may find these issues and prompt your buyer to use any problems as leverage to get money off the asking price.
Interested to know the current value your property? Try our free online property valuation tool.
Eco-Friendly
Making your home more environmentally friendly with the likes of solar panels, wind turbines and improved insulation will increase its total value. If your home is cheaper to run, it will stand out in the property market and you can usually add a premium to the price. Bear in mind that it may be worth getting an updated EPC (Energy Performance Certificate) that reflects your new energy improvements.
Already completed your revamp and want to know how much value you've added to your property? Need an estate agent with a background of getting the highest possible price for their clients? Book an appointment with one of our property experts. Call us on 0800 862 0870 or book an appointment today.
Best 10 ways to add value to your home
By